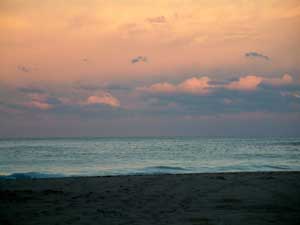 Starting with a walk through the back streets of Eden, you quickly descend to Cattle Wharf and pick up a track that leads you around the shoreline of the bay. Crossing small beaches and rocky points, and passing mussel farms in the bay, this brings you to Quarantine Bay, where the local yachting fleet lies moored off-shore. A brief inland diversion to cross the Nullica River bridge brings you to Boydtown Beach and the historic Seahorse Inn, built in the 1840s.From Boydtown, you continue around the shoreline to reach the sandy spit at the entrance to Towamba River – time for another swim or deep wade to reach the eastern shoreline and the old Davidson Whaling Station. The track continues through the forest to Fisheries Beach and historic Edrom Lodge with its sweeping views over Twofold Bay. It is now time to leave the bay behind as a dirt road takes you to Ben Boyd Tower (once used for whale-spotting by the whalers).This tower is the start of the Lighthouse to Lighthouse Track, which follows the coast for the next couple of days to Green Cape Lighthouse. It starts out following the wine-red and chocolate coloured cliff line, passing beneath banksia, paperbark and tall ironbark forests, as it crosses a number of rocky inlets and stony beaches. The landscape opens up as you cross Mowarry Point with its grassy clearings and mobs of kangaroos, before eventually re-entering a strip of coastal heath that leads you to Saltwater Creek and its campground.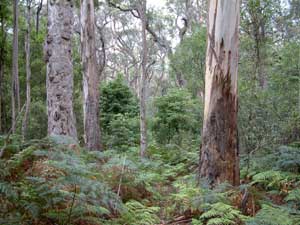 Passing the lagoon at the southern end of the beach, the track climbs up through the forest to reach areas of open heathland, home to the rare ground parrot. Soon you catch your first glimpses of distant Green Cape lighthouse, but first you must wander around the open tops north of Bittangabee Bay and then through patches of lush forest to reach Bittangabee campground. Eventually the forest gives way to low open heathland as you cross the promontory to reach Green Cape, with its lighthouse, keepers' cottages and extensive views over Disaster Bay. This can be a great place to stay for a bit of luxury on the walk.
On leaving the lighthouse, you follow the access road back inland, before dropping steeply through the trees to the northern end of a long stretch of isolated beach. Halfway down this beach lies the rocky prow of Baycliff which guards the entry to Wonboyn Lake, a large body of water that disappears back into the forest. The entry however is narrow and can be swum or waded at low tide. Once on the southern shore, you cross the Baycliff rocks before heading inland to pick up a well-formed 4WD track. This will take you through the hinterland forest to reach Wonboyn, a village lying peacefully on the hilly southern shore of the lake and the end of the section.