Strictly speaking the walk starts in Bundeena on the southern shore of Port Hacking, but it makes for a pleasant beginning to catch the ferry from Cronulla across to Bundeena. It is also good for the soul - as the ferry takes you away from the city and towards the bushland of Royal National Park, civilisation slips away and the future lies ahead.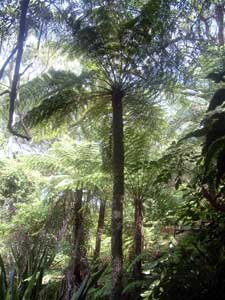 The holiday village of Bundeena is quickly left behind as the first part of the walk follows the Royal National Park Coast Track across the heathland to the long line of sandstone cliffs that line the northern end of the park. The beauty of weathered sandstone and the deep blue of the Pacific Ocean quickly get you into the mood of the Great South Coast Walk.
Crossing the isolated beaches of Big and Little Marley and the peaceful Wattamolla Inlet begins to show the diversity of this coastline. From Wattamolla, the track crosses the heathland and streams of Curra Moors, passing cliff-top waterfalls and more sculpted sandstone cliffs, before descending to Garie Beach. Here the big surf rolls in over sandy beach and rock platform. A little later on is North Era campsite, where most people spend the night.
From North Era, a climb over a grassy headland brings you to the heritage-listed fishing shacks of South Era Beach and Burning Palms. The track heads south between densely-vegetated escarpment and rocky coastline before climbing up through the temperate rain forest to reach the sclerophyll forests on top of the escarpment. Winding south along a long ridge, the Royal National Park Coast Track eventually finishes at the southern end of the park.
The route continues south, following a road from Otford Lookout to Bald Hill Reserve, a favourite take off point for hang-gliders, before descending to the picturesque village of Stanwell Park, a possible overnight stop.
Stanwell Park signals the start of the Escarpment section, climbing first via the Wodi Wodi Track and then the Illawarra Escarpment Trail to reach the richly-vegetated sandstone habitats high above the coast. The track follows the edge of the escarpment with several superb views over the scalloped coast line and down towards the city of Wollongong.
Reaching Sublime Point, it descends via a series of ladders and wooden steps, through a variety of forest types, to reach Austinmer, a northern suburb of Wollongong. The last part of this section is urban-fringe walking, through leafy suburban streets and a quiet bike path, passing beach, rock pool and park to end the section in the centre of Wollongong.