A new long distance walk?
The purpose of this website is to put forward the idea of a long-distance walk along the southern coastline of New South Wales, from Bundeena on the southern fringe of Sydney, to Mallacoota, just over the border in Victoria. The walk is not something that needs to be created from scratch and, for the most part the infrastructure, already exists. As mentioned above, my wife and I have walked it. That was eleven years ago and, ever since, I have thought that this deserves to be one of the great long distance walks of Australia.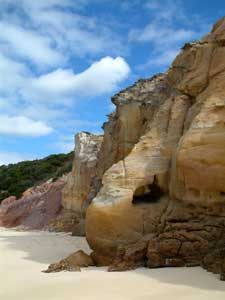 There are only three walks of comparable or greater distance; the Heysen Trail (1200 km), Bibbulmun Track (970 km) and Australian Alpine Walking Track (650 km). All have deserved reputations, but apart from the first 70km of the Heysen Trail and last 200 km of the Bibbulmun Track, they are essential inland routes. There is no primarily coastal long-distance walking trail and the Great South Coast Walk would complement these others. We have walked many parts of coastal Australia and there is no other region that has the diversity of habitat and landscape of the South Coast of New South Wales.It could be argued that there are already a number of walks, from a few hours to a few days, along this section of coastline, so why create a new one. I would argue that having an all-embracing great walk would provide a greater focus and a case where the whole is greater than the sum of its parts. All long-distance trails comprise a collection of shorter tracks, but it is the iconic nature of the long-distance trail that attracts attention, both locally and internationally, and provides a greater challenge and richer experience.
This site has been set up to both describe the concept of the Great South Coast Walk and to seek feedback and suggestions via an on-line forum. Clearly, if it does happen, it is something that will evolve from this rudimentary beginning and this evolution will be driven by the input and contributions of many people.
If, on reading this, you think that there should be a Great South Coast Walk, your help is needed.