The material contained in this website is for general information purposes only.  Any reliance you place on such information is strictly at your own risk.
While we endeavour to keep the information provided here up to date and correct, we make no representations or warranties of any kind, express or implied, about its completeness, accuracy, reliability, suitability or availability for any purpose. In no event will we be liable for any loss or damage including, without limitation, indirect or consequential loss or damage, arising from the use of this website.
We have no control over the nature, content and availability of other websites linked to this one. The inclusion of any links does not necessarily imply a recommendation or endorse the views expressed within them.
Like all outdoor activities, bushwalking has inherent dangers. If you choose to undertake any sections of the proposed track, you should consider the following: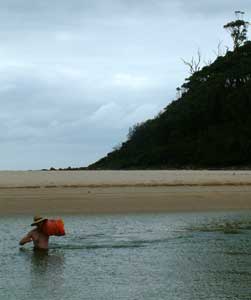 Do not walk alone
Plan your walk carefully and ensure that is not beyond the physical capabilities of the party.
Leave details, including party members' contact details, the name of an emergency contact person, location and registration of any vehicles, proposed route and estimated time of return, with a responsible person. Inform them of your safe return.
Weather conditions can change rapidly. Be prepared to be caught in extreme conditions.
Always carry sufficient water and food, warm and protective clothing.
Carry a first aid kit and know how to use it.
Carry an emergency kit including items such as matches, whistle, mirror, 'space' blanket, additional food, torch
Exercise prudent navigation and safety strategies – carry map and compass and know how to use them. Consider carrying a GPS and communication devices such as a PLB, mobile or satellite phone.
Do not cross rivers, inlets or lagoon entrances unless you are experienced and confident in the water. Always check tide and current conditions before making water crossings or walking on rock platforms.